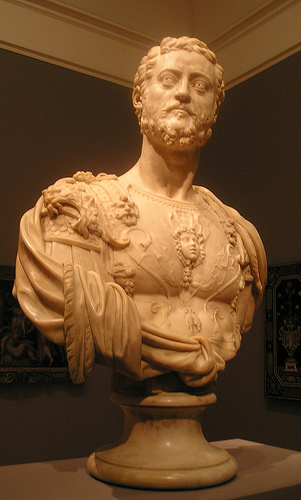 Boven: Cosimo 1 de'Medici laat zichzelf in marmer uithouwen. Medusa pronkt op z`n borst. Cellini en Van Tetrode werken bijna een jaar aan dit borstbeeld. Nu staat het in the M.H. de Young Memorial Museum in San Francisco.
Billed by the auctioneers as a new discovery, the piece had come from Schloss Lieser, home of the Schorlemer family, who acquired the castle in the wine-producing Mosel valley region in the 19th century.
The auctioneers ascribed the naked figure, which wears a grimacing satyr's mask and holds a large bunch of grapes, to the Netherlands and the late 16th or early 17th century, a point when Northern Mannerist bronze casting was at its zenith.
But they did not feel able to go as far as a firm attribution to sculptor, suggesting three possibilities: Adrien de Vries (whose Juggling Man, now in the Getty Museum, they sold in 1989 for £6.2m); Willem van Tetrode and Hubert Gerhard.
Patricia Wengraf, who told ATG that she will be researching the bronze, leans toward de Vries, citing similarities to figures of Christ and Saint Sebastian in the Lichtenstein collection, but added that "the iconography is more of a challenge".
There is evidence of an attachment to one of the hands, implying the figure held something apart from the grapes, and there are holes in the corner of the figure's downturned mouth, which have led to the suggestion that it could have served as a fountain.
By Anne Crane
Zie ook:
Willem van Tetrode, eerste beeldhouwer van ons land
Ontwaakt na 400 jaar
Werk van Willem van Tetrode vind je in Detroit Institute of Arts, Michigan, J. Paul Getty Museum, Los Angeles, Liechtenstein Museum, Wenen (Vienna of Wien), Frick Collection, New York City, Los Angeles County Museum of Art Database